Back
ELIZABETH CHAPEL CHURCH
NAMED FOR MRS. BERRIDGE
By James Sands
Special Correspondent
Transcribed by Marian Schoonover
From the Sunday Times-Sentinel
    THIVENER-Elizabeth Chapel Church is located on the hill below the village of Thivener. The village was originally known as Yellowtown, Thevinen's Hills, and Thevinen.
The church was organized about 1868 by the Bible Christian denomination and the first sanctuary was dedicated on October 26, 1870. That first church building burned on a Sunday morning in 1900 from a defective flue as the congregation was on its way to worship. There was no insurance on the building.
The present church was built in 1901 on land that had originally been given by Hugh Plymale. The church was named after Elizabeth Plymale Berridge, wife of Cornelius Berridge, who along with Asa Cottrill, Abram Darst and Jacob Halley were early leaders at Elizabeth Chapel.
As to the town, it is an old settlement having been built around a mill which was established here as early as the 1810s and at one time operated by Nicholas Thevinen and Collin Thevinen. Nicholas Thevinen was presumably among the French 500 who came to Gallipolis in 1790, for P. T. Wall wrote in one of his pieces concerning Lafayette's visit to the Old French City that Thevinen had known Lafayette back in France. The Thevinen family moved to the French Grant and then settled back in Gallia County on the Raccoon Creek. Collin Thevinen was born in 1792 and lived to be 101 years old and was noted for his fishing as much as his mill work. We quote from his obituary: "He was a great fisherman and for 20 years fished half of his time. Once when he was fishing a man accidentally shot him through the arm, but he kept on fishing."
We have before us a copy of a journal kept by Dr. Increase Matthews, who was later one of the first settlers at Zanesville. On Aug. 16, 1798, Mathews camped at what would later be called Yellowtown along with a Captain Stone, a Mr. Carr, and some hunters and packers. Captain Jonathan Stone was a surveyor for the Ohio Company and was the brother-in-law of Dr. Matthews.
"Our hunter killed a fine deer and turkey today and we have an excellent supper. The land here is broken and not rich. The timber is oak, beech, sugar tree and some hickory."
"Friday, August 17- Concluded to tarry in camp today. Dug a quantity of Virginia Snake root of which there is plenty in the woods.
"Saturday, August 18, 1798. Remained in camp with Capt. Stone all day. He was unable to work, though much better than he was yesterday. Find myself a little unwell in consequence of my change of diet and lying on the ground. Rainy in the afternoon and evening. It is diverting to see how our pack horse contrives to escape flies."
"The woods in the country are infested with large flies that are troublesome to horses and cattle and other animals. Our pack horse to avoid them keeps at the camp over the fire and smoke. He will almost get into it, and under the tent."
Flies Stir
"He feeds but little in the daytime. He sometimes goes out a few minutes when hunger compels him, but returns with great haste to the camp. As soon as daylight is gone, he goes out and continues to feed till morning. As soon as the flies begin to stir he comes back and continues with us till night."
On the 19th the Stone camp was moved one mile west and north. On the 20th they moved one mile south and on Tuesday, Aug. 21 Dr. Matthews set out for Gallipolis with his packer. In Gallipolis Matthews stayed with Robert Safford and "bought some peaches of an old Frenchman which were refreshing after having lived some time in the woods without any kind of acid."

Dr. Mathews, whose home in Zanesville is now a museum, becomes a most interesting chapter in early Ohio history. He was among the first in the state to import from Spain Merino sheep a breed that revolutionized the industry in Ohio. Mathews was also probably one of the first doctors in Ohio to use the Jenner smallpox vaccination. People in Zanesville were afraid of such a vaccination. Matthews vaccinated his two children and then had them spend the day beside the bed of a patient with smallpox. When the town observed the children to be as healthy as ever, many agreed to be vaccinated.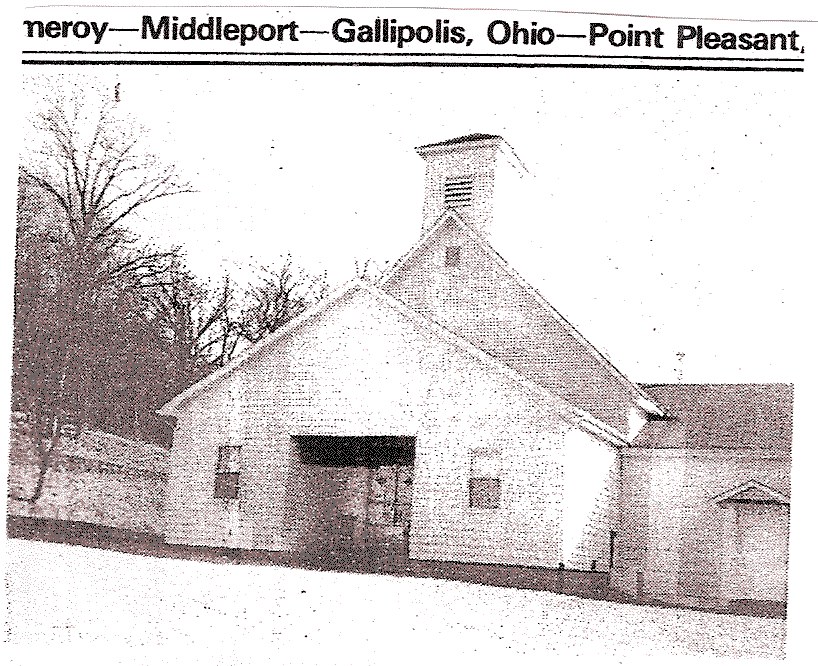 ELIZABETH CHAPEL Church in Thivener was built in 1901. It is the second sanctuary the congregation has used, the first one having burned in 1900.  The name of Thievener is a corruption of an early family name, settlers by the name of Thevenin. The community was also know as Yellowtown. In 1798 Dr. Increase Matthews camped where the church is and wrote of the area's flora and fauna.