History of St. Peter's Episcopal Church
FIRST VESTRY AND FIRST BUILDING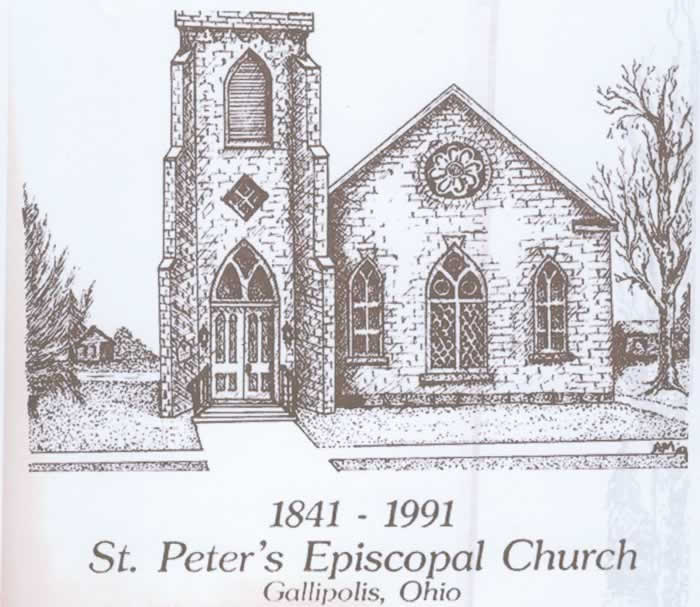 The exact date that Episcopalians began organized worship in Gallipolis is not known but in December 1841 "the Rev. James B. Goodwin assembled a few professed friends of the Church, and proposed to them to organize a Parish of the Protestant Episcopal Church." That date is considered the birthday for St. Peter's Episcopal Church. The first vestry consisted of Peter Menager, Senior Warden, Dr. Edward Naret, Junior Warden, and members Charles Creuzet, Darius Maxon, Alonzo Cushing, A. C. Harrington, James Eaton, William Clendenin, Dr. Elisha Morgan, Augustus LeClercq, Joseph Drouillard, and Robert Black. These men chose Rev. Goodwin, a missionary priest from the Diocese of Virginia, as the first rector. Early services were held both in the Court House which was then located on the Public Square and also in a stucco building on the 200 block of Second Avenue below the corner of Second and Court.
The vestry resolved at an early date to have their own building and soon negotiated to purchase a lot at 227 Second Avenue between Grape and Court. Construction of a church building got underway reportedly in 1842/3 and services were held in an unfinished building. However, the title to the land was challenged, no deeds were ever recorded and the construction was abandoned. For sixteen years the members worshipped without a church building. In May 1858 another lot was purchased for $700.00 in the 500 block of Second Avenue from the Board of Education. A small two-story brick school building stood on the lot and apparently was torn down to build the church. Within seven months a red brick structure, which cost $2,341.00 was ready and on December 19 1858 St. Peter's was opened for religious services under Rev. A.B. Sturgess. On April 12, 1859 the building was consecrated by, Bishop Charles P. McIlvaine.
The original red brick structure is still the beautiful sanctuary of the church and remains essentially the same as it did in 1858. It is possible that we retain the original church pews.
BELL TOWER
The bell tower appears to have been a later addition to the church probably soon after the anonymous gift of a bell in 1868. The bell, still used today, weighs 960 pounds, and must be rung only for religious services under the direction of the Rector or vestry. It is never to be rung in celebration of any national, political or civil event or holiday. The exception to this is when religious services are also held in conjunction with those holidays. There is an inscription or the bell from Marruley's West Troy, N. Y. which reads "Presented to St. Peter's Church, Gallipolis, Ohio, July 1, 1868. In Memoriam, Come ye, and let us go up to the mountain of the Lord, to the house of God of Jacob." Isaiah, 2:3. It was later learned that Bishop Onderdonk of New York was the donor and that he probably was related to Henry M. Onderdonk who served on the vestry in 1866.
The bell must have rung often for in 1876 St. Peter's held both morning and evening church services with Sunday School a 9 A. M.
BAPTISMAL FONT, 1865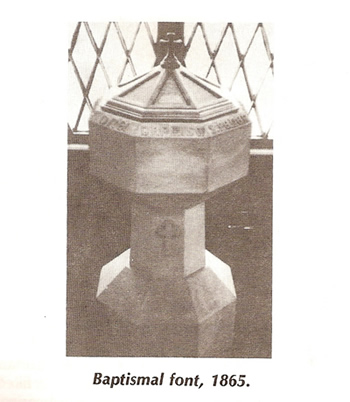 The sanctuary of St. Peter's was originally furnished by donations of money and gifts from the congregation and friend of St. Peter's. Such things as the stained glass windows, alter hangings, communion service, prayer books, and hymnals have been furnished in this way. One early example was the presentation of a silver communion service with a flagon, two goblets, two plates, one paton and one baptismal bowl by Mrs. S. A. Nash in 1881. In the following month Confirmation was held at St. Peter's and undoubtedly the new gift was used at this service. During Lent, Wednesday and Friday evening services were added to the schedule.
Other gifts over the years have included the reredos, alms basins, brass candlesticks, brass, alter cross, two processional crosses, the rose window, and a hand carved pulpit.
SOCIAL EVENTS RAISE MONEY
The vestry of St. Peter's in 1882 included A. Vance, William Cherrington, W. R. Morgan, S. A. Nash, E. S. Aleshire, A. L. Langley, and Samuel Roberts. At that time the ladies of the church raised money through social events and during that year they gave an entertainment and festival with the Land of Nod, an operetta, rendered. The sum of $150.00 was made at Aleshire Alm Hall.
In April 1885 the newspaper reported that the ladies of St. Peter's would give a social with supper, ice cream and cake for twenty-five cents at the residence of Mr. Samuel Brosius. The article read in part that "The ladies will endeavor to make the evening a pleasant one to those who will patronize them and a cordial invitation is extended to all."
In February 1888 the Ladies Aid Society sponsored a Pancake Festival held at the residence of William C. Miller. The Young Ladies Society of the Parish presented the Dairymaid's Festival, an operetta, for the benefit of the occasion. "At eight o'clock the piano, presided over by Miss Ella Kerr, gave fourth sweet strains of music, and the curtain rising, the stage became a scene of beauty, for it was immediately filled with pretty girls dressed most becomingly as milkmaids, each bearing her bucket and milking stool…The 'Three Little Milkmaids'… was just too sweet for anything. The courting scene between Miss Daisy and Joe also brought down the house… In the Churn Chorus… the voices sounded with charming effect." Little Bo Peep also appeared and was sound asleep. Afterwards a feast of pancakes was presented to all. The affair was declared both a financial and social success.
That fall the Sunday School picnic excursion was made on the K & O Railroad up the Kanawha Valley.
FIRST REMODELING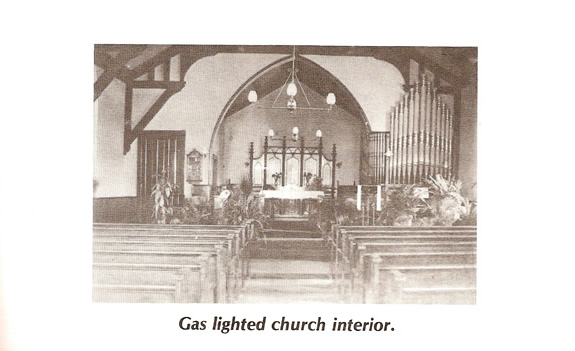 In 1883 services were held on Sundays at 11:00 and 7:00. "Seats were free." Extensive remodeling of the church took place in 1884, and the original pews were painted and grained to give the appearance of handsome oak instead of the old brown box-like fixtures of the past. The walls of the church were papered and a handsome carpet provided. A new furnace was installed. A wide flagstone pavement replaced the old brick one on the exterior and a wide step was added at the door.
When lights were added, there were two on either side of the altar, two more in the chancel, and one hung from the center ceiling. At one time there was a coal furnace with a register in the middle aisle.
FIRST VESTRY MINUTES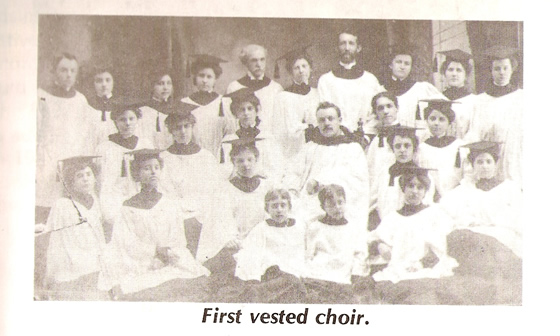 It was 1888 before the first vestry minutes were kept for St. Peter's. At the annual meeting a Senior Warden was elected with seven votes and a Junior Warden with six. Women were not allowed to vote. Vestry minutes, once begun, were kept infrequently, perhaps every two to four months. Meetings were usually held in private homes or at places of business.
In 1888 the fence committee was continued to keep up the fence between St. Peter's and the Nevius building. The vestry also agreed to try to get a free organist and a voluntary choir. In the fall a church picnic was held and a convention took place in Marietta.
In 1889 convention delegates were to be appointed by the rector. Later that year the rector was granted a vacation and the vestry agreed to raise his salary to $600.00 as McArthur also had to pay him.
In 1891 the Ladies Aid Society held and Oyster Supper and had homemade candy for sale.
In 1892 there was still discussion about getting an organist and in 1894 it was announced that Mrs. Evelyn Maguet had filled that position.
In 1896 no Sunday evening services were held in June and July.
No minutes were recorded for two years. Rev. Lutz had resigned in January 1897 and the church called Rev. F. J. Lloyd in June 1898. Donations in 1898 included a board with the church name, hymnals and electric lights.
In 1899 a new building was discussed. H. Nelson Ford resigned and was thanked for 25 years service as Sunday School superintendent. J. E. Halliday was elected to fill his vacancy.
That same year the vestry also voted to get a new furnace and Wellsbach burners to light.
TURN OF THE CENTURY BRINGS PARISH HOUSE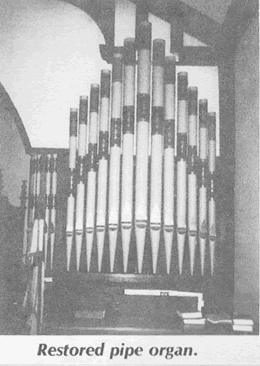 In 1900 a building committee was established to study the building of a Parish House. Construction took place between September and November of that year. S. A. Dunbar donated lumber. Water was to be put in for the first time.
In January 1901 the building committee was discharged. A Gift of altar and baptistery rails was made by: Mrs. L. A. Burns of Bridgeport, Connecticut.
Organizations giving reports in 1901 were the Choir. Ladies Aid Sunday School, Young Ladies' Guild, and I serve. The vestry awarded a contract for a new pipe organ in April 1903; the cost was not to exceed $1, 250.00.
No more minutes were kept until 1904 when Rev. D. A. Thomas was rector. He was advised that they could not keep up his salary and to look for a charge.
In April 1906 the vestry called several ministers before successfully obtaining Rev. Ernest Meyer. In 1907 it was time for more building improvements and there was still talk of getting lights in the church. In August 1907 the Tribune was urging Rev. Meyer to get home from vacation as he had six weddings to perform.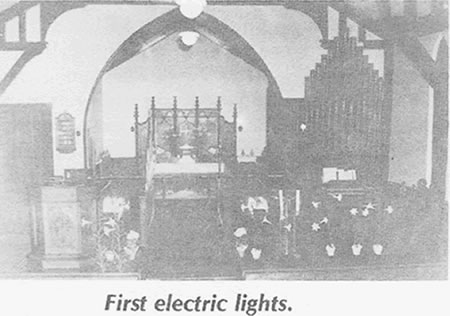 A bazaar was held in the rooms below Kerr's Hardware store in December. Fancy work and aprons were offered for sale. Cakes, plum puddings, bread and candies were on hand with ice cream and cake or a fine lunch served at any time.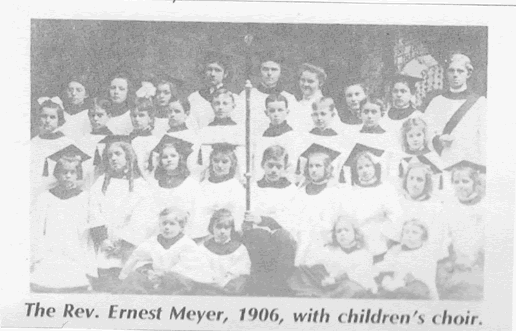 RECTORY PURCHASED AND FIRST WOMAN ELECTED TO VESTRY
St. Peter's formed a corporation in 1911 to promote the cause of Christian faith and religion and to provide and maintain a place of worship. C. E. MacKenzie was the rector at the time. A rectory, the Eagle home was also purchased during this year. There were 141 members and 52 families of St. Peter's in 1912.
In 1913 the churchwomen held a bazaar, served the alumni banquet at Rio Grande, and had a summer garden. The parish picnic was held at the Fair Grounds at Clyffeside with about three hundred in attendance including many friends of other congregations. Entertainment included baseball and an orchestra.
In 1917 the only male present at the annual meeting was the rector, a sign of war time. But it was 1923 before a woman, Miss Maggie McClurg, elected to the vestry. In November 1918 during the flu epidemic, on the advice of physicians, the church held no public service and in early December all public services were omitted but the bell was rung at 10:30 a.m. for Hour Worship and at 7:00 p.m. the bell rung again for evening prayers in the home. The litany was suggested for the morning service and the Order for Family Prayer for evening. By Christmas there was a midnight service planned for Christmas Eve, a "festive Eucharist with full vested choir. Christians of every name will be cordially welcomed. The service will last about one hour." Vespers would be Christmas day at 4:30 p.m.
The Alter Guild was started in 1933 and that same year a new furnace was added and redecoration was finished.
In 1949 a new front walk and steps were added. In 1953 a nursery school opened in the church under Mary Jeanne Walker and Nancy Plymale.
SECOND ADDITION FOLLOWED BY STAINED GLASS ROUND WINDOW
Vestry minutes show that a new addition was finished in 1954 and even later four rooms were provided for a church school. The pipe organ served for over fifty years, but beyond repair, it was replace by a modern pipe organ, which has recently been refurbished and is still used. Both the new building and the pipe organ were financed largely through donations.
In 1974 the backlighted stained glass ground window was added to the apex in the front of the church. The window depicts our patron Saint, Peter and his brother Andrew attending their nets at the shore of the Sea of Galilee was designed by our present rector, the Rev. Albert H. Mackenzie.
THIRD ADDITION
In 1976 the Vestry of St. Peter's purchased the old Holzer Hospital and the property was resold except for a portion adjacent to the church on which St. Peter's planned to expand. A building fund drive was begun which resulted in matching funds from the Diocese allowing a total of approximately $300,000 for a new addition. Groundbreaking was in June 1978 and the building was completed in February 1979. The new building was consecrated, August 10, 1980 by Bishop William G. Black.
NEW BUILDING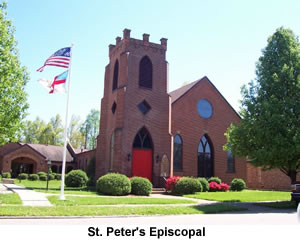 The Rev. Albert H. MacKenzie is the present rector and members of the 1991 vestry are Marlene Hoffman, Senior Warden, Bill Davis, Junior Warden, Elaine Rees, Diane Bruce, Tom Wiseman, Ann Jenkins, Robert Jenkins, Ada France, Jan Doolittle, Sam Davis, Frank Sisson and ex-officio members, Jimmie Evans and Maureen Brown.
MINISTERS
Ministers serving St. Peter's since its beginning are listed below. Dates are given as best as can be determined from minutes, services, or newspaper reports. Sometimes no dates are given or only a single year is given as complete dates are not available.
Rev. James B. Goodwin 1841
Rev. T. B. Dooley
Rev. A. Edwards
Rev. George B. Sturgess 1857-1861
Rev. William Thompson 1863-1866
Rev. Henderson Judd
1867-1869 Rev. Johnson
Rev. John Gribble 1869-1870
Rev. H. E. Hayden
Rev. David W. Cox 1872-1875
Rev. A. J. Yeates
Rev. W. T. Bowen 1879-1880
Rev. C. Douglas Barbour 1881
Rev. John Moncure 1883-1891
Rev. Charles Mayo
Rev. Frank P. Lutz 1892-1897
Rev. Frederick J. Lloyd 1898
Rev. Frederick J. Walton 1899-1901
Rev. Ambrose Henry Beavin 1901-1903
Rev. C. A.Thomas 1903-1904
Rev. Ernest Meyer 1905-1906
Rev. Charles Elliott Mackenzie 1911-1915
Rev. A. J. Wilder 1915-1917
Rev. H. G. Rapps
Rev. Albion Ross 1918-1922
Rev. Arthur H. Marshall 1923-1924
Rev. Frank Barr
Rev. L. O. Forqueran 1927-1930
Rev. Robert Leake 1936-1939
Rev. Charles G. Baird 1940-1947
Rev. Kenneth C. Wilson 1949-1951
Rev. Richard H. Ash 1952-1955
Rev. Albert Chappelear 1956-1959
Rev. Emmett Smith 1960-1964
Rev. Albert H. MacKenzie 1964
The above history is a result of the reading of vestry minutes and a variety of articles found in newspaper account, court records, church bulletins, church histories, and several other publications. It is noteworthy that many of the same activities that took place in earlier years such as conventions, vestry meeting, the work of the church women to raise money, church picnics, annual meetings, and the worship services are the same events that occur today even though we may no longer perform operettas or have orchestras at our picnics. Repairs, choirs, the organ, Sunday School, vestments, and attendance were concerns then as they are today. It is left to the reader to interpret the facts but beyond the knowledge of building and additions constructed, events occurring and gifts made, the core of St. Peter's was and is its members who are grateful to God for His many blessings as we celebrate the 150 th Birthday of St. Peter's Episcopal Church.
Written 1991 by Henrietta C. Evans

EPILOGUE TO THE HISTORY OF ST. PETER'S
In 1913 St. Peter's had its greatest growth. Sixty-seven people were confirmed, which was the largest in our history. We know that God works and intervenes in our lives to do His will, but we are not always aware of how far He reaches to accomplish His plans. St. Peter's was established in 1841, and our present building was completed in 1858. In the same year, Charles Elliott MacKenzie was born in Pictou, Nova Scotia, to parents of Scottish Descent. He was educated at Picout Academy, King's College, Windsor, and became a lawyer. He was attracted to the Anglican Church. He married Kate Cutler, and entered the Priesthood in 1885. He served a parish at Shediac, New Brunswick, Prince Edward Island, Brockville, Ontario. In 1893 their fourth child Harold, who was my father, was born. Three months later the family moved to Massena, New York where my grandfather served an Episcopal Church. He received a Doctor of Divinity from a Methodist College in Berea, Ohio, became Rector of St. Luke's, Cleveland, and then he was Archdeacon of Southern Ohio. He went to St. James, Zanesville, and in 1910 to St. Peter's.

St. Peter's flourished under his leadership. In November 1914 Dr. Mackenzie was diagnosed with cancer and was confined to bed. When visitors came to visit him, he said he was "going to have the Christmas Communion Service, and for them to be there." His wife and sister would just shake their heads and say, "It's impossible!"

The Rectory was across the street from the church, and on Christmas the family watched people walk into the church. Fully dressed in his clerical garb, my Grandfather walked down the stairs, holding tightly to the rail. His sons helped him to the church where an acolyte helped vest him. He served communion to everyone. A chair was placed in the chancel, and Grandfather sat down to deliver his farewell sermon. "God is calling me, and whatever he has in mind for me, I accept; He is the loving, all-knowing Father of us all. I thank Him and you. Of all the pastorates, this has been the most satisfying. You have been under-standing and loving. Thank you and I love you all." A month later on January 24, 1915, he died.
Forty-eight years after his death, I, his grandson, came to St. Peter's to carry on the Lord's work. The faces of the people have changed, but we are still caring, understanding, loving and continue to be the servants God called us to be. "God is working His purpose out" by using us.
Written by Albert H. Mackenzie
Transcribed by Marian Schoonover